1980 Yamaha XS650 Special
This is my newest acuisition and believe me it didn't look like the pictures below when I picked it up. The guy I got it from bought it brand new in 1980, put 12,000 miles on it, then parked it in his garage semi-disassembled in 1986. It has been sitting there ever since. It was covered in dust and cobwebs and had some minor surface rust on the chrome. We rolled it out with both tires flat and I kicked it over to see if it had compression and it did. He had all the parts to it and a title so I said "what the heck, I guess I'm up for a challenge" and trailered it home.
Rebuilding the carbs was all it took to get it running. However a good tune-up was in order so I called my bud Tom Niemela up to give me a hand. We adjusted the valves, camchain, and clutch. Then we synched the carbs with a mercury carb stick and now it runs like a top. It had some electrical problems with the handlebar controls, flasher and tach but I now have those resolved. All in all considering it has been sitting for nearly 17 years it was in pretty good shape. I've put about 600 trouble free miles on it so far but unfortunately winter is upon us and I am looking forward to some more riding this summer.
Click on the image to see a larger view.

This is what the bike looked like when I got it, after a good washing.
I was hoping there was no fuel left in the carbs when it was stored, but no luck, the fuel that drained from them looked more like syrup than gasoline. The brake system wasn't any better, i had to go through them as well.

This is what it looked like after getting it running and without the hard saddlebags.

Shown with the optional factory Yamaha hard saddlebags.
A view from the other side, a new rear skin was in order as this one was well worn.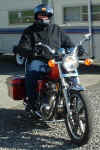 The maiden voyage. I now have a Plexifairing on it which makes cold weather cruising much nicer.